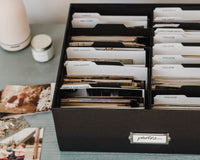 The Classic Large Photo Box
Available in black or white with divided boxes and file tabs. Acid-free, lingen free photo storage.
buy now
I love having all my printed photos in one place. No more old, moldy and yellowed albums.

Jane M.
These boxes are so beautiful. I finally honor my collection with their due home.

Sam J.
A worthy investment for worthy memories. I'm so in love with my photo box. I can't believe it holds my entire collection.

Patricia A.